For International Law, why trust anything less than a Board Certified Expert like Francis M. Boyer?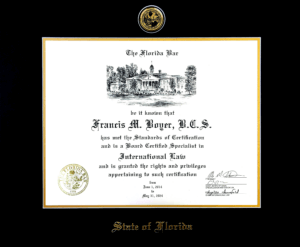 According to the Florida Bar, International Law includes dealings between states and international organizations, as well as issues that can occur between nationals of different countries. These issues could include business immigration, international business transactions, international litigation, international taxation, and customs laws.
Evaluated for Professionalism, Tested for Expertise.
Earning his International Law Board Certification was no small feat. The Florida Bar requires Board Certified Specialists (B.C.S.) in International Law to meet each of several rigorous requirements both for initial certification, as well as very similar criteria for recertification, including:
Practicing law for at least five years in international law (or four years with a Master of Law or LL. M degree).
More than half their work focused on international law for the past three years.
At least 60 hours of international law certification in continuing legal education (CLE) during the past three years.
And both a peer review and a written legal exam.
Having met each of these requirements and by continuing to do so, Mr. Boyer remains one of a select few attorneys nationwide to be recognized with the highly elite certification as a Board Certified Specialist in International Law. The Florida Bar lists him as a member in good standing and eligible to practice law in Florida.

When Mr. Boyer first achieved his B.C.S. in International Law in 2014, he became one of only 53 board certified experts in international law. As of January 1, 2020, of the more than 90,000 attorneys in Florida, there are only 50 other board certified experts in this unique field. Further, of the other states in our nation, only Florida currently certifies attorneys in International Law, so Mr. Boyer currently stands as one of the 51 board certified experts for the entire United States.

What is the Global Impact of these Specialists?
Our world is growing smaller, and more intertwined. So organizations like the International Bar Association, of which Mr. Boyer is a member, exist to contribute to global stability through the promotion of the rule of law. From Brexit to climate change, and from protests in Iran to the international refugee crisis, the future beckons wise and experienced leaders in international law to assist in the otherwise muddied waters of legal matters that cross national boundaries.

Why do I need an attorney certified in International Law?
Having held the board certification in International law since 2014, Mr. Boyer also possesses the experience necessary to set him apart in the international legal field. He regularly maintains his CLEs by traveling to New York and Miami. Simply put, Mr. Boyer knows international law and is recognized as an expert for this unique field.
Your international legal needs can vary widely, but they may include:
A full list of international legal issues Mr. Boyer is prepared to address can be viewed on our International Law page. Fluent in both French and Spanish, Mr. Boyer welcomes you to contact him for your international legal issues.